This is a tale about how I met my Sophie. Happy Valentine, Sophie! 情人节快乐!
In February 2016, I spent the first two weeks travelling in China and celebrating Chinese New Year. Having family across the world felt great, and I could visit them any time. China is in an economic boom, and growing very fast. It felt good to be connected to other parts of the world. I had recently graduated university and moved to the Bay Area for just about 3 months. I still felt there was a lot of travelling I could do, to explore the world. But travel is costly, from the time and financial perspective. Is there is another way?
Becoming a hosting on couchsurfing.com
From December to end of March, I was renting the master bedroom in a two bedroom apartment. Since our apartment had two couches, I felt I could make use of them to use it to host some couchsurfers and make friends from all over the world. So I subscribed to the couchsurfing email newsletter.
One day while scanning through my email of couchsurfers looking for hosts, Sophie's profile photo caught my eye. She was very pretty. Her profile described herself as a high level headhunter, ambitious, eager, and interested in startups.
I offered to host her on the first day she lands in US. But she replied with moderate interest, and describing an overly ambitious schedule of visiting too many cities.
Unfortunately, she had found a host already, but she was willing to meeting up for coffee. We met on Sunday Feb. 21, 2016.
That Friday and Saturday, I was hosting my first couchsurfer, Satoshi, from Japan. His profile described him as an aspiring entrepreneur visiting SV. I was hosting him, my friend Shaon was looking to buy a house. While we drove around, I was messaging Sophie to see when and where she can meet up with us.
Meeting my 2nd couchsurfer
At the end, we settled for meeting at my home, and both Sophie and her host met my friend Shaon and Satoshi.
When I first saw her, I had two impressions: "oh my goodness she is beautiful, cuter than her profile photo" and followed by "oh she's shorter than I thought".
After getting acquainted, we all went on a spontaneous trip to see Half Moon Bay and try to catch sunset. I briefly chatted with Sophie in the backseat, before doing the driving myself.
Returning, we went to visit Facebook, which was a fun place and suitable for visitors. Apple had no such open door policy. Sophie and I chatted some more about who we were.
Towards the end of our visit at Facebook, I had made a good impression with Sophie. She had changed her mind about not staying over and asked her couchsurfer whether it was okay to stay with me. Of course it was.
First impressions
We chatted late into the night. And as I closed my eyes, I knew I liked her. A lot. I was so excited that I woke up at 5 am to blog. And then after I was done, I woke her up to chat.
We had talked and next thing I know, it was morning. I still had to work, but I decided to take half day off to get up later, show Sophie around my office, then drop her off at Stanford University. And I missed her immediately.
Date #1: Las Vegas
Immediately after dropping her off, I convinced and coordinated with her so I can come to Las Vegas and travel together. Below is a cute video taken at Hoover Dam. I had rented a yellow Camaro. I had always wanted to drive a yellow sports car!
After this trip, Sophie had returned to China. We decided to try long-distance dating, and we did video calling consistently, about 3 times a day, 30 minutes each time.
Date #2: Hawaii
After a while, we wanted to meet up again. My family wanted to do a big vacation, and we settled on going to Hawaii. I invited Sophie to meet with my family.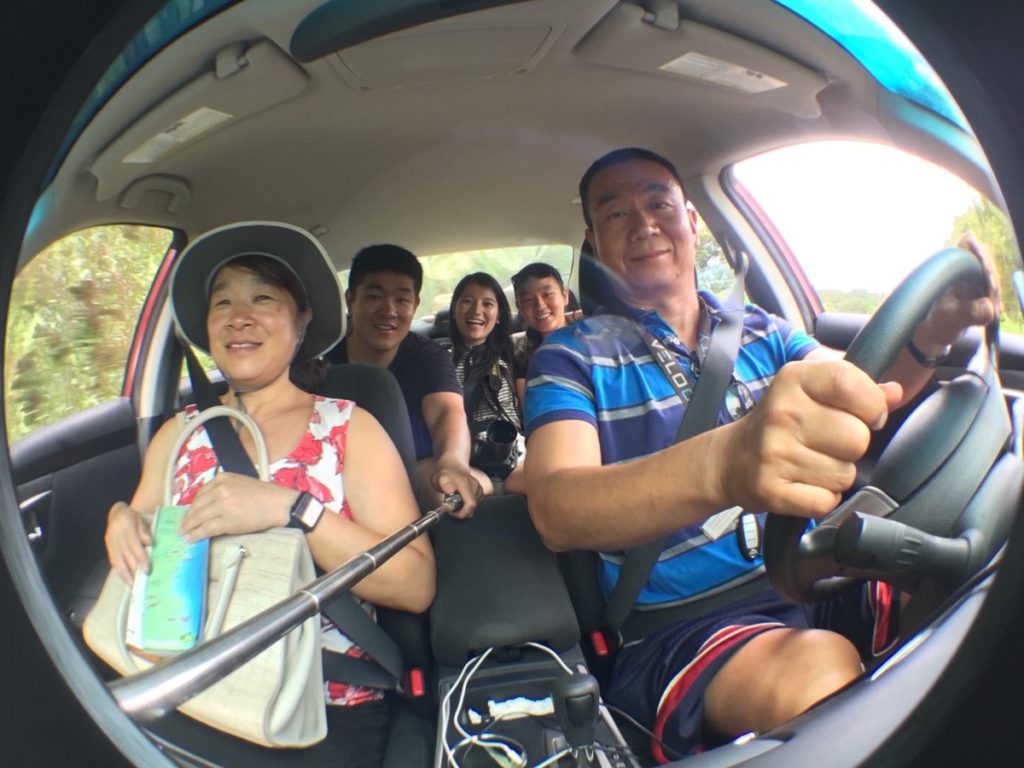 After the trip to Hawaii, we still continued to do long-distance, and we meet up again. This time I wanted to meet her parents. So I visited China.
Date #3: Shanghai
Being with Sophie in China is like being a tourist. Although I had gone to Shanghai before, having Sophie show me around is a completely different experience.
I had remembered to take some videos this time. (I didn't have videos from Hawaii trip. Shame.)
We are now progressing well.